Director, ISTEP, Professor, Ph.D. (Toronto), P.Eng., FCAE, FAAAS, FCEEA | greg.evans@utoronto.ca | Tel: (416) 978-1821 | Room: WB127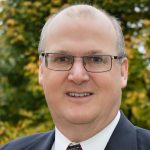 Director of both ISTEP and the Collaborative Specialization in Engineering Education, Professor Greg Evans is very interested in the scholarship of teaching and learning. He is particularly passionate about how to better engage engineering students to develop the competencies and skills that will help them enjoy successful careers while benefitting society. Professor Evans is pursuing research related to the instruction of transdisciplinary competencies, metacognition, lab-based learning and leveraging data to create a more holistic picture of the student learning experience.
Outside of ISTEP, Professor Evans is a core faculty member within the Department of Chemical Engineering & Applied Chemistry (ChemE) at U of T. He also leads SOCAAR, an interdisciplinary research centre that studies air quality with a particular focus on how air quality impacts human health, climate and the environment.
Over the course of his distinguished career at the University of Toronto, Professor Evans has received numerous awards and accolades for his dedication to engineering education, including the 3M National Teaching Fellowship (2017) and the Allan Blizzard Award (2014) from the Society for Teaching and Learning in Higher Education, the Ontario Confederation of University Faculty Associations Award (2015), the Northrop Frye Award for integrating research and teaching (2013), and the 2010 Engineers Canada Medal for Distinction in Engineering Education (2010).  He is also a Fellow of the Canadian Academy of Engineering and the American Association for the Advancement of Science.
For more on Professor Evans, please visit the ChemE website
Expertise:  Engineering education, Transdisciplinary competencies, Metacognition and lifelong learning, student data analytics