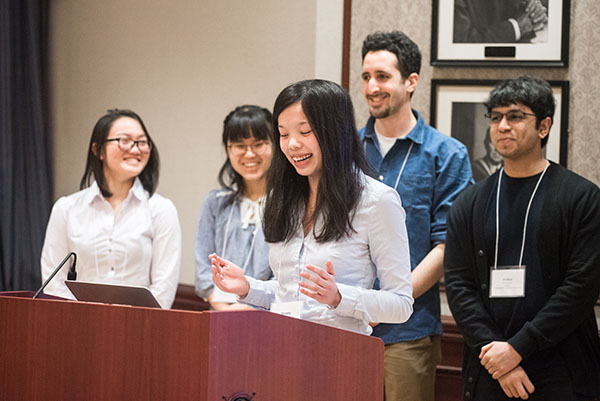 NEW Course this year! TEP449 Intercultural Communication and Leadership
Ever wonder why you thought you were perfectly clear, but the response left you puzzled? It likely wasn't because you were speaking a different language. More likely, you were communicating across some cultural chasms. Intercultural communications explores these experiences and will help build your knowledge and skills to practice leadership in multiple contexts.
TEP449 is a new offering this fall aimed to support students in developing their leadership and communication capabilities to work in a global world. Offered by Dr. Penny Kinnear this course will be both fun and rewarding for those who take it.
---
Being an engineer is about more than solving equations and complex technical problems. It's about working with people, building strong teams and creating positive social change. Leadership education complements your technical education by offering opportunities for personal, interpersonal and professional development. Knowing who you are — your strengths, talents and preferences — empowers you to effectively collaborate with others (teams) and work toward a larger vision (organization) in order to influence positive change (society).
ISTEP supports the integration of leadership and team-learning into core courses across U of T Engineering and supports the multi-pronged work of the Troost Institute for Leadership Education in Engineering (Troost ILead), our Faculty's very own leadership institute.
---
Jump to:
Undergraduate Programming | Graduate Programming| Additional Opportunities
Programming for Engineering Undergraduates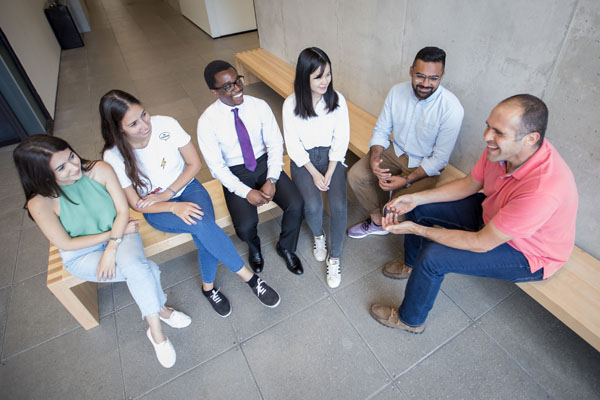 Certificate in Engineering Leadership
Take three of Troost ILead's undergraduate courses to earn a certificate in Engineering Leadership (see courses listed below). Leadership education is about learning how to effectively handle complex, human challenges that often mean the difference between success and failure. Engineers are taught to think analytically and systematically. Leadership skills build on these strengths to make you a more effective engineer. This certificate allows you to demonstrate your commitment and learning in this sought-after area.
Engineering Leadership Courses
Troost ILead offers seven undergraduate courses that explore different aspects of engineering leadership. Any of these courses can apply to either the Engineering Leadership certificate or the Engineering Business minor.
TEP343H (formerly APS343H) – Engineering Leadership
TEP442H (formerly APS442H) – Cognitive and Psychological Foundations of Effective Leadership
TEP444H (formerly APS444H) – The Happy Engineer: Positive Psychology for Engineers
TEP445H (formerly APS445H) – The Power of Story: Discovering Your Leadership Narrative
TEP447H (formerly APS447H) – The Art of Ethical and Equitable Decision Making in Engineering
TEP448 - System Mapping for Complex Societal and Environmental Problems
TEP449: Intercultural Communication and Leadership (CS)
Co-curricular Leadership Programming
Troost ILead created several ways for undergraduate students to kickstart their leadership journeys. Many of the opportunities below count toward the Co-curricular Record (CCR).
Leadership Labs: Interactive, skill-building and community-oriented workshops for first-year students.
Transition to Workplace workshop: Excellent preparation for those heading into the workplace, whether for a short-term summer job or a longer-term PEY Co-op position.
Summer Fellowship: An eight-week cohort program for student leaders who want to excel as they lead their club.
FIELD Summer Program: An 8-week summer program with an emphasis on self-discovery, professional field trips and community building.
Work Opportunities: Apply to work on the Troost ILead student team. Jobs are advertised in August.
Deep Dive Cohort Programs: An in-depth, full-day workshop to help students deepen their confidence and mastery related to a variety of leadership skills.
Leadership Awards and Scholarship Opportunities
The Registrar's Office maintains a list of scholarship and award opportunities — several of which align with demonstrated leadership potential. While some are U of T awards, many are supported by external organizations and companies that value engineering leadership.
Programming for Engineering Graduate Students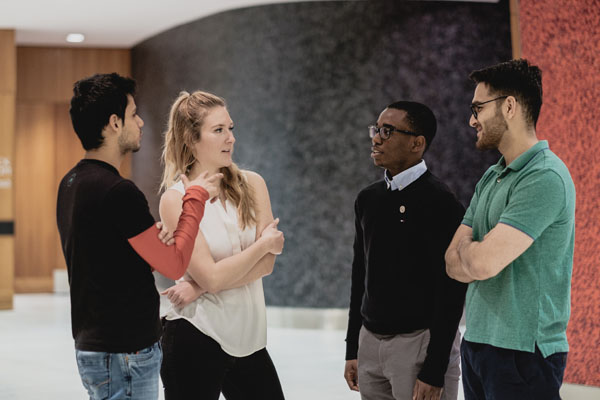 U of T Engineering Leadership Courses
Troost ILead develops and delivers the Faculty's graduate leadership courses. These courses are open to all MEng, MASc and PhD students:
TEP1010H (formerly APS1010H) – Cognitive and Psychological Foundations of Effective Leadership
TEP1011H (formerly APS1011H) – Concepts and Applications of Authentic Leadership
TEP1026H (formerly APS1026H) – The Happy Engineer: Positive Psychology for Engineers
TEP10127 (formerly APS1027H) – Engineering Presentations
TEP1029H (formerly APS1029H) – The Science of Emotional Intelligence and its Application to Leadership
TEP1030H (formerly APS1030H) – Engineering Careers: Theories and Strategies to Manage your Career for the Future
TEP1501H (formerly APS1501H) – Leadership and Leading in Groups and Organizations
TEP1502H (formerly APS1502H) – Leading Engineering Design Projects
MEng Emphasis in Entrepreneurship, Leadership, Innovation & Technology in Engineering (ELITE)
MEng students can take graduate-level leadership courses through Troost ILead toward the  Emphasis in ELITE . This Emphasis is specifically designed for those engineers who wish to take on a leadership role in their work environments — whether by learning to better motivate teams, foster and manage innovation or by embracing global opportunities.
Co-curricular Programming
Troost ILead offers two programs to help engineering graduate students increase self-awareness and career readiness: Grad PACS and OPTIONS Program. Read more about both on the Career Development page.
Additional Opportunities for Leadership Development
Graduate Engineering Council of Students
GECoS is a forum for representatives of all engineering graduate student associations at U of T to collaborate on a variety of initiatives, including academic, social and professional events. Check out upcoming events and leadership opportunities on the GECoS site.
Student Clubs and Teams
Engaging in a club is a great way to explore and practice your leadership skills. At U of T Engineering alone, take your pick from 100+ clubs — from design teams and social clubs to cultural groups and advocacy organizations. It's best to think about your purpose (whether its building community, sustainability, or practicing your technical skills) and go from there. Involvement in student club opportunities often counts toward the Co-curricular Record (CCR).
Entrepreneurship
If you are interested in leading your own startup, The Entrepreneurship Hatchery is a great place to start. Read more about how ISTEP is supporting entrepreneurship development in engineering students.
U of T Leadership Development
The University of Toronto offers several programs, conferences and training modules for aspiring student leaders. Learn more about these opportunities by exploring the Student Life website.
Community Leadership
If you are interested in community-based leadership check out the Centre for Community Partnerships.